About VTech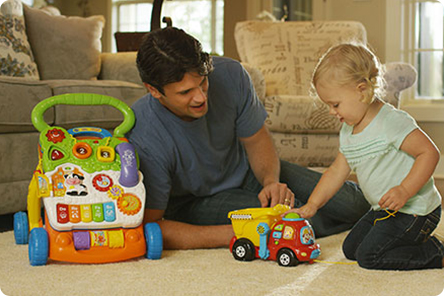 VTech is a world leader in age-appropriate and developmental stage-based electronic learning products for children. As a pioneer in the learning toy category, VTech develops high-quality, innovative educational products that enrich children's development and make learning fun. With a rich, more than 45-year history VTech has not only established itself as a learning authority but also consistently remains at the forefront of innovation with multiple award-winning products, including prestigious Toy of the Year (TOTY) Award winners. The company also has a broad range of award-winning infant, toddler and preschool products available in 28 different languages worldwide, with more than 100 new products introduced every year. In order to further strengthen VTech's position as a learning authority, new products are developed with critical insights from a dedicated team of in-house learning experts.
VTech Electronics North America, L.L.C. is based in Arlington Heights, Illinois. VTech Electronics Limited is headquartered in Hong Kong with distribution globally.
For more information about VTech's electronic learning products, visit www.facebook.com/VTechToys on Facebook or follow @VTechToys on Twitter.
Information
Do you have any questions, comments, or stories to share about your VTech products? We'd love to hear from you. Please contact us via phone, fax, or e-mail at the contact information listed below.
Contact us regarding your VTech learning toys
Fill out our Support Form to contact us regarding your Product.
Check out these other VTech sites:
vtech.com (Corporate Site)
VTech Holdings Limited - For the big picture on VTech worldwide, be sure to visit our corporate site. Complete investor relations information can also be found on vtech.com.
vtechphones.com
VTech Communications - VTech DECT 6.0 cordless phones are the perfect blend of stylish design and exceptional features all competitively priced to provide more choices and value for your home communications needs. VTech® - Designed to fit your home. And your life.™
vtechcanada.com
VTech Canada - If you live in Canada, you can contact our Canadian office for VTech toys and phones.
United States
VTech Electronics
North America, LLC
1156 W. Shure Drive, Suite 200
Arlington Heights, IL 60004


Canada
VTech Technologies
Canada Ltd.
12111 Jacobson Way
Richmond, BC V6W 1L5


Corporate Governance & Ethics
At VTech Electronics, we believe in high standards. We believe that high standards in the workplace lead to high quality products in your home. Therefore, we require honesty and the utmost integrity from every employee at every level across the company. By conducting ourselves accordingly with customers, vendors, and fellow employees, we have consistently met these high standards year after year.